<![if !vml]>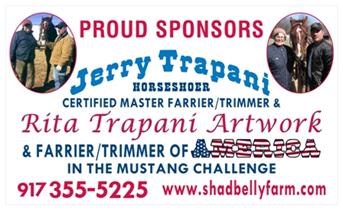 <![endif]>
Welcome to Shadbellyfarm.com. My name is Jerry Trapani. I have over 40 years of practical shoeing experience, AFA certified, Guild of Professional Farriers certified journeyman, and BWFA master farrier. I am the author of Equine Hoof Care 1983 Arco (out of print) and a contributing author to The Whole Horse Catalog, and many articles for trade and general magazines. Equine Hoof Care was used as a textbook in the Dutch National Equestrian School. I have been a speaker and presenter at trade and general conferences. I have extensive experience at both farrier and trimming techniques. I have shod many international, national and regional champions in many disciplines: jumpers, hunters, dressage, and driving. I served as Farrier at two world championships and shod horses in the UK and Germany.
To Contact us via e-mail click banner link.
<![if !vml]>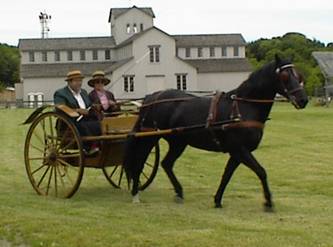 <![endif]>I am the founding President of the Paumanok Driving Club of Long Island in 1983 and am a successful competitor in both pleasure and CDE's. I am currently chairman of the Safety Committee of the CAA and regional membership representative as well as serving on the board, and a life member of the ADS. Together with Rita, we have gotten countless people involved safely into driving. I am a representative for many harness and carriage makers as well as a network of other carriage enthusiasts. We can get you started right.
We have not only sold and ordered new carriages but conserved, restored and appraised antique carriages. As a member of the CAA Carriage Showcase committee, I have judged many times and offered comment on a wide range of vehicles. We have written many articles and given presentations for the carriage trade. Working closely with the Long Island Museum of American Art, History and Carriages we have given seminars and helped train the docents there.
<![if !vml]>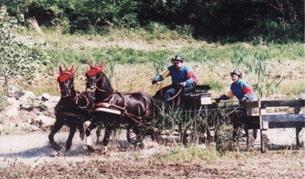 <![endif]>I am a representative for Smuckers and Yonnie's beta Bi harness, Carriage Machine Shop as well as other makers of carriages and carts from VSE's to Drafts. I can assist you with your harness and vehicle needs. Rita's artwork spans a wide variety of subjects from quilts to cards. Her work ranges from pen and ink to one of a kind three-dimensional pieces created from recyclable items. Portraiture includes people, horses, and carriages, and your home or stable. Feel free to inquire about cards, prints, and original work for sale.