Return to
Home Page<![if !vml]>

<![endif]>
Appraisals
I have over 25 years carriage experience and a lifetime with horses in many disciplines. As a rider, whip, farrier, manager, clinician, judge and all around horseaholic, I can offer many services for your appraisals of a carriage to an entire collection. I can do this for you through good clear photos, or on site. I have worked with many insurance companies as an expert witness after an unfortunate accident. I can also be available for court cases involving equine liability.
Sample Appraisal
Up for bid a VERY RARE Antique Rockaway Horse Drawn Carriage
<![if !vml]>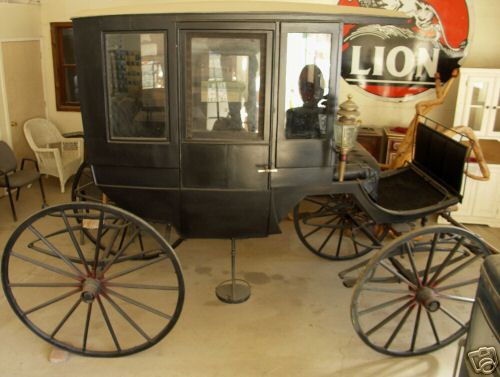 <![endif]>
According to an antique carriage expert that I contacted out of Long Island New York that works closely with the museum this is an Extension Front Curtain Rockaway. It has interior seating for four and curtains as well as glass. It seems to be a carriage of high quality, but with no tag or makers tag it is difficult to find itís origin for sure.
There is a tag under the driverís seat that may or not be a serial number. It reads BURKLZT907 and the Z & T apprear to be worn and might be something else. There are pencil marks also under the seat that could be a craftsmanís name along the way that either did part of the original construction or did some repair to the vehicle. The marks read RADICKINSON. The lamps are not original and are not the style appropriate for a carriage like this. There are many fine qualities found here, the step covers, acorns on the iron work, use of coach lace in the interior, shaping of wooden parts ect. That indicates a fine carriage maker. The Rockaway style carriage was introduced as early as the 1830ís in Jamaica NY but grew to be a very popular style around the country by the 1850ís. The use of glass panels instead of just curtains, the squareish shape, and the use of hounds on the fifth wheel indicates is age to be in the earlier part of the carriage style. The carriage expert puts it between 1850 and 1865. The glass is intact and operated up and down; the interior is mostly complete and original including all the shades. The driverís seat and dash seem to have been recovered at some time and the exterior body paint looks repainted and restriped. The wheels have cracks in the hubs, they may require some repair to be road worthy. There are some cracks also in the body panels; however the integrity of the panels is solid.
††