I am a dealer for Smuckerís Harness and Yonnieís Beta Harness. Both represent the finest
craftsmanship and value in harnesses. Smuckerís has been synonymous with quality in leather
and most recently synthetics for over 40 years. Moses' son Daniel has closed the retail shop, but is
still taking orders for Deluxe or higher quality harness. Please call for more information.
Yonnie has lead the way in synthetic harness since opening his doors in 1995, with many innovations for
CDE, draft pleasure and racing harnesses. Many accessories such as spares kits, marathon belts and halters are now available.
Add color to your harness on Yonnieís beta harness 2 tone black lined w/ brown or black at
NO extra cost. Rich dark russet brown or combinations of colors to your liking at slight extra cost.
Several gently used harnesses now available. Several from mini to large horse in beta and leather [Smuckerís],
and pair horse beta and leather pair horse [Smuckerís].
Email or call for pictures and prices
As of June 15th Prices will increase across the board.
Draft Harness available in leather or Beta in various styles and colors for single through big
hitches from VSE to Gentle Giants.
Call for quotes. <![if !vml]>

<![endif]>
<![if !vml]>

<![endif]>†Deluxe harness available in leather or Beta for singles
through 4 in hand and tandem All parts are padded <![if !vml]>

<![endif]>
w/ V breast collar or collars and hames Great for shows or CDE.
Call for details
<![if !vml]>

<![endif]>†Marathon harness in leather or Beta, w/ shaped V or deeper
super V w/ adjustable draft and all stainless quick release hardware. Super strong
and durable for the serious competitor† from VSE to Warmblood
Call for details
.<![if !vml]>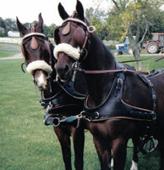 <![endif]> Euro style collars [ brollars] available in single and pair w/ long or
††††††††††††††††††††††††††††††††††††††††† short tugs
†††††††† Call for details
<![if !vml]>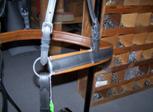 <![endif]>††††††††††††††††† <![if !vml]>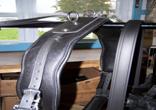 <![endif]>††††††††††††††††††<![if !vml]>

<![endif]>
Deluxe brown lined breeching†††††††††††††††††††††† Black deluxe saddle†††††††††††††††††††††††††††††††††††††††† Shaped crownpiece
<![if !vml]>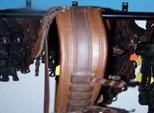 <![endif]>†††††††††††††††† <![if !vml]>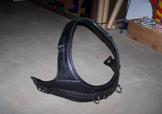 <![endif]>†††††††††††††††††<![if !vml]>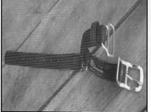 <![endif]>
Russet brown breast collar†††††††††††††††††††††††††††††††††††††††††† Euro collar††††††††††††††††††††††††††††††† Quick release tugs in pony or horse
†††††††††††††††††††††††††††††††††††††††††††††††††††† V shaped breast collar
For the starter mini or VSE a SAFE economy harness is available with a straight one piece
breast collar and breeching and a no tree saddle. Includes stainless hardware and wrap around
or buckle down girth starting at only $ 275.00
The pleasure harness is a great entry level or every day harness All padded areas have rolled edges.
All hardware is stainless steel. There are no teardrops or side checks but they can be optioned.
Breast collars are straight style, and the traces are sewn to the collar. Buckle-in style is available,
as is a show chain brow band.
The Deluxe harness is suitable for show or marathon. It comes standard with extra padded buckle-in
"V" breast collar, padded saddle, breeching, teardrops, and a false martingale with trace carriers.
The traces have wear plates on the front, and a 3-way option with a large D at the other end.
All padded parts are rolled and the face is a patent finish. All black or 2 tone lined with a rich russet color
at the same price. All Godiva brown, which mimics bridle leather, at a small premium. The only option you
might want add is a show chain brow band, shaped crown piece and a double buckle noseband.
The Marathon harness includes all of the deluxe parts plus a deeper more padded Super "V" breast collar
with adjustable draft, quick release tugs, shaped crown and nose band. The same color options are available,
custom colors can be ordered.
Draft style harness is available from a single work harness to Big Hitch show harness with Glitz to spare.
Scotch Collars, monograms, and decorations whatever you want. Sizes from VSE to Gentle Giants.
Call for pricing and list of options.
All harness can be ordered with a treeless saddle if you wish and you can mix and match options from one
to the other. All harness guaranteed to fit.